Self-defence
Learn how to protect yourself through regular training, improve your reflexes, and learn to walk with confidence.
Fitness
Practical in use, our dynamic trainign sessions will help you toward your fitness goals, while building your core and conditioning your body.
Fun
Build your confidence and character in a fun environment, meet new people, and become part of our Taekwon-do family.
Established in 2012 by Mr Christopher Black, NEST is the North East's leading martial arts schools in traditional ITF Taekwon-do. With schools across the North East, Teesside, North Yorkshire, and County Durham. Providing fun family classes from ages 4 and above.
Taekwon-do is a traditional martial art originating in Korea, ideal for teaching children and adults about self-defence and discipline, while building confidence and character. We're incredibly proud to support a multitude of students, including British, European, and World Champions.
Our instructors are fully qualified to provide a fun learning experience for all your's or your children's needs. We are registered with the British Taekwon-do Council to promote the safe delivery of Taekwon-do and safeguarding for all students, we are fully qualified, insured, and DBS checked.
Taekwon-do Classes starting from from £24 (4 x lessons) per month.
For more information check out our Available Classes, or Contact Us.
Mr Christopher Black
V Degree International Instructor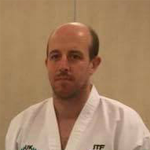 Mr Paul Bateman
II Degree Assistant Instructor
Mr Rick Bairstow
I Degree Assistant Instructor
Get in Touch
Find us
We have classes across Teesside, North Yorkshire, and County Durham. Find your nearest class, drop us a message, and pop along to your first session.
Give us a call
Mr Christopher Black
07866461047